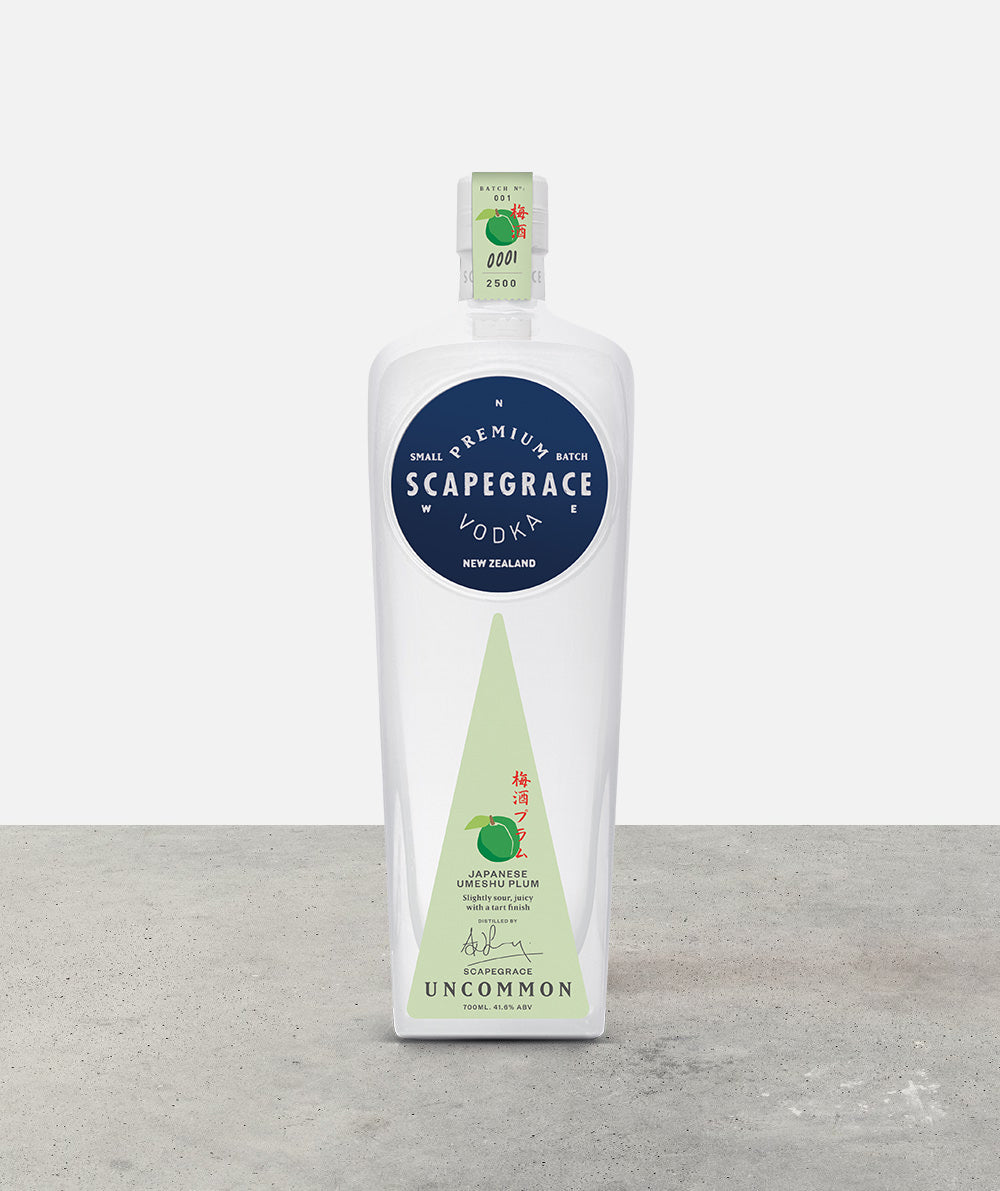 Scapegrace Uncommon Vodka – Umeshu Plum
Free Delivery on orders over $80.00
Limited release of Scapegrace Uncommon Vodka
The Umeshu Plum is slightly sweet, yet sour, with lots of texture. This gives the vodka a light, fleshy texture with notes of almond warmth and cake spice, before rounding off with a luxurious white chocolate mouthfeel.

Uncommon not only in name, this release is limited to a scarce 2,500 bottles, all hand-numbered.
Never to be repeated nor extended, these editions are intended to be lost to time but forever remembered by a select few.
Delivery is free for orders over $80.00. For orders under $80.00 a delivery fee of $8.50 applies to orders anywhere in New Zealand.
You may also like...
Scapegrace Uncommon Vodka – Umeshu Plum
Uncommon
The Collaboration
Our second collection looks to celebrate rare ingredients produced here in New Zealand despite all odds, with Scapegrace Vodka providing the blank canvas to hero and preserve these unique flavours.

The hunt for such ingredients led us to stumble across the love-story-turned-cultivation-project of Junko and Neville Chun.

A yearlong fruitless quest to find Junko a much missed yuzu, lead to Neville's discovery of an ornamental yuzu a garden centre couldn't wait to get rid of. Their early saplings lay to waste by rabbit plague after rabbit plague, not a lesson wasted on the pair. A now thriving orchard, bearing fruit that sells out before one could even think to give it away.

Each made using the entire fruit, a simple way to honour the unseen effort that went into each crop.
Signature Serve
The Ume
50ml Scapegrace Uncommon Umeshu Vodka
10ml Mancino Sakura Vermouth or American Vermouth
Serve in a coupette with a ball of pawpaw or papaya.